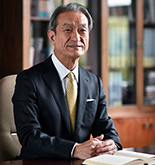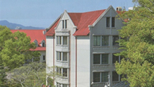 Living in a World Where We Can't See the Future
For the past several years, university education has been at a critical turning point. This is because the society in which Japanese universities exist is being shaped by factors such as AI and the so-called Internet technology, Iot, by the falling birthrate, ageing population, and shrinking workforce, and by the problems of maintaining social insurance and pensions. It is an age in which students inquire very seriously into what and how they will study at university. Especially, Japan is at the forefront when it comes to facing the problems of the falling birthrate. Both Japan and the wider world need people with knowledge and skills, with good judgment and reasoning power, and with the ability both to work independently and to cooperate with others.
Population studies in Japan predict that within 50 years the average life-expectancy for Japanese women will exceed 90 years. It is safe to say that in order to maintain the pension system, the current retirement age of 65 will be have to be raised to 70. It seems likely that instead of a system of lifetime employment we will have a society where wages will be based on ability, changing job will be normal, and the mode for employment will be fair for women as well as men. If we take a long-term view, knowledge and skills that can be applied immediately will soon become outdated, and after graduation it will be necessary to continue learning lifelong.
Founded by American Methodist women missionaries in 1879, Kwassui will celebrates its 140th anniversary in December 2019. Our education, based on receiving the gift of love, the "water" of grace, with thanks, and sharing it with others, has not become outdated but remains vibrant. Our diploma policy confirms that our education is aimed at equipping our students to be independent, professional workers.
Those who start the day with gratitude for being alive are people who have understood for themselves the value of life. This is the attitude of living positively, making the most of each day, and having the ability to understand and sympathize with the troubles, sorrows, loneliness and suffering of others. This exclusively human ability can never be replicated by AI.
University is the place for each student to pursue truth through her own area of specialization. Please spend your time at university as independent women who have an intellect which includes both self-exploration and sympathy for others, both freedom and responsibility. I hope that you will start every day of your life at Kwassui with thankfulness for being alive.