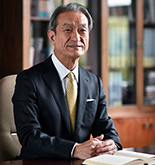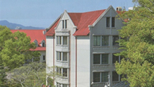 Living in a World Where We Can't See Ahead
During the past academic year Japan experienced a number of serious natural disasters, and although 2020 seemed to start peacefully, COVID-19 was already spreading unseen. This unexpected disaster has affected our lives in ways beyond our control. Issues that have been troubling society until now, such as the low birth rate, ageing population, decline in the numbers in the workforce, and the spread of AI, all seem to have been blown aside since the panic of this disaster started.
In order to prevent the spread of infection, education has adopted distance learning. However, because of rapid changes in living environment, students and their families have been greatly burdened by living with the uncertainty, confusion and questioning which result from not being able to predict even the immediate future.
For the past 141 years of its history, Kwassui has aimed to give women an education which will enable them to be independent. This aim is based on the ethos of Christianity, which tells us that "living water" is not to be kept for oneself, but is to be shared with one's neighbours. Kwassui is a women's university that proclaims this message through its own name. Over its history, Kwassui has withstood difficult times such as when 400,000 people in Japan died of the so-called Spanish Flu, and the pre-war oppression against religious education. Without losing patience or hope, Kwassui has continued as a presence in Nagasaki for over 140 years. We should remember that this history is set in the context of the Christian education that gives hope to Kwassui teachers and students.
Last year Kwassui established a Career Education Centre to help students learn to improve their critical thinking skills and learn while developing themselves. All students take a basic course in both semesters of the first year. Through connections which have been established with local businesses, we are promoting career education which continues through the junior high, high school, and university levels of Kwassui.
There will continue to be moments when everything seems hopeless, but Kwassui is going forward, raising high the "true hope" from God, the source of wisdom and life.