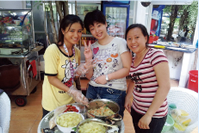 The world changes, and we must be ready both to
adapt and to be part of the development process.
Students in the Department of Japanese Culture
first acquire a deeper appreciation of their own
language and develop communication skills,
as well as gaining a deep understanding of
Japan with all its beauties and problems. They can
then specialize in the areas of Japanese Education,
Teaching Japanese to Speakers of Other Languages,
Japanese Literature, or Culture Management.